Membrane replacement inside an oil conservator during power transformer maintenance
---
During the maintenance of its transfromer, our Chilean partner needed to replace the membrane which was protecting its conservator oil. The major point of this request was linked to its oil conservator special shape, a bolted one, which opens horizontally into two parts, contrary to standard oil conservators, which own a lateral openning part and use a STP Rubber bag to compensate oil level. (if interested in this kind of project, discover the compensation of standard oil conservators with STP Rubber bag). The dismounted membrane was from Pronal and has been used during more than 30 years. Once again, our MTP membrane has been selected to answer to our costumers needs, thanks to our capacity to adapt to this kind of particular oil conservators and to our know-how of custom made solutions.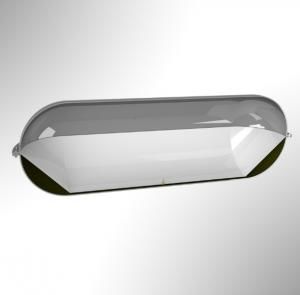 Pronal Solution - MTP membrane
Once oil conservator drawing and bolting details received from our partner, Pronal delivered a MTP membrane made of PU manufactured on-shape and custom-made to allow to have a membrane perfectly adapted to the conservator shape (2700x850mm and 420mm high). During the maintenance or creation of a new oil conservator, a flexible compensation membrane has to be installed between its top and bottom parts. Sealing is done thanks to a peripherical seal, bolted together with the MTP membrane during the oil conservator closure. During the filling or emptying process, the membrane follows the oil level and protects it from air and humidity. By the way, oil keep its dielectrical properties without being contaminated.
Our costumer found a company able to develop a custom-size product answering to its needs. Thanks to this flexible solution, our partner goes to work over 30 years. On today's date, other projects including MTP membrane are running for bolted oil conservators.